Progressing missions with progressing ALS: NASA employee Dave Parker gives new meaning to work-life balance
In the fall of 1992, Dave Parker began his career as a prime engineer of the electrical power team for the first Hubble Space Telescope Servicing Mission, or HST Servicing Missions. Almost 30 years later, he continues to be an influential and diligent employee at NASA's Goddard Space Flight Center,. His efforts greatly contributed to the success of many NASA missions, including all of the HST Servicing missions. Parker has always been a crucial part of the satellite servicing team, even when faced with the incredible obstacle of a terminal illness.
On Nov. 19, 2015, Parker was diagnosed with Amyotrophic Lateral Sclerosis, or ALS, a progressive neurological disease that leads to paralysis and loss of speech, swallowing, and breathing functions. Because of ALS, Parker is now bound to his wheelchair and hospital bed. Over the course of five years, he lost the use of his arms, hands, legs, and core, and has developed difficulty speaking and swallowing. ALS has severely impacted his day-to-day activities, but his attitude and outlook on life remain bright. His contributions to NASA's Exploration and In-space Services (NExIS) team, formerly the Satellite Servicing Projects Division, of which he is a part, continue to be invaluable.
"[Parker is] an active member of the team and is relied upon for expertise and engineering judgement," NExIS Division Chief Benjamin Reed said. "We consider ourselves lucky to have Dave as a member of the team. Our success is due in large part to his contributions."
An uphill battle
Upon hearing his diagnosis, Parker had many things to consider. He knew his motor functions would decrease substantially over the coming years, but was determined to continue the important work he does for NASA. That's where his coworkers stepped in.
Parker's wife, Christy Hansen, began researching technologies and NASA processes that could enable Parker to continue working once he could no longer use his hands or speak. Hansen engaged Goddard's IT department to initiate the path that ultimately led to the integration of Parker's eye-gaze system. IT experts across Goddard and other NASA centers, as well as Hansen's and Parker's engineering friends and colleagues, collectively helped to design, purchase, obtain required exemption and approvals for, and assemble the whole system in his home. This computer allows Parker to work from the comfort of his home using only his eyes to manipulate the computer.
Even with specially-outfitted technology, Parker still faces challenges in his work.
"Doing everything from home and not being able to draw my ideas out is difficult," Parker said. "Every morning, to know that people still depend on me to get work done and help others as well gives me a great reason to get out of bed."
One of Parker's toughest struggles is conveying an idea to someone in a way that captures the exact meaning. He faces everyday obstacles, such as being restricted to work from home, not working hands-on with any hardware or in the cleanroom, and completing tasks at a slower pace.
Parker's greatest motivation is the support from his family at home and his family at Goddard.
"Knowing that my Goddard family cares so much is one of the biggest reasons why I am still working," he said. "It's amazing how many fantastic people work here."
A few of Parker's colleagues have worked alongside him since he began his NASA career in 1992. The HST team feels like an extended family, he said, and the team has continued to grow together since the conclusion of his time with HST.
"Being able to work on an incredible piece of equipment that has rewritten so much of what we know about our universe is just amazing," Parker said. "Hubble was definitely the highlight of my career. It opened the eyes and inspired so many kids, scientists, astrophysicists, and more."
All in the family
Parker was and continues to be heavily impacted by those in his life.
"The list can go on and on," he said. "You could go to any Goddard employee with a question or potential idea for something and they would give you exactly what you need and more."
Parker's wife, Christy Hansen, also works at Goddard and expertly balances her job caring for Parker and her work at NASA.
"Our battle to manage and cope with the progressive aspects of ALS continues at an insane pace," Hansen said. "The secondary effects of the disease are numerous, and something that was difficult to prepare for – even with our extreme NASA spaceflight projects contingency planning and training experience."
Parker attributes much of his success and positive memories to the many people he worked with since his beginnings at Goddard.
"We are all more than work associates, we are a work family," he said. "The outpouring of friendship, love, and support during my battle with ALS has been amazing."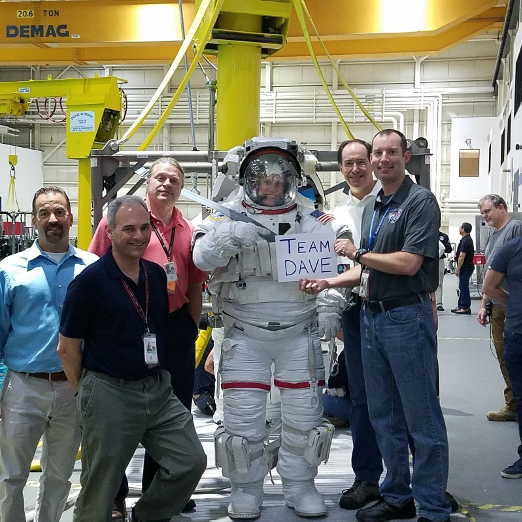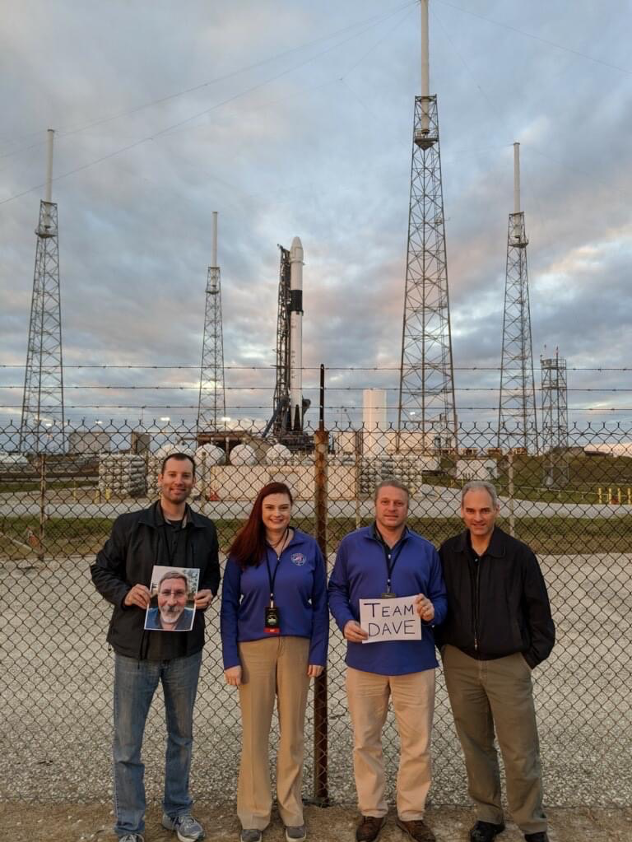 Pushing forward
Despite the setbacks from his ALS, Parker is an avid worker for Goddard, working on the On-Orbit Servicing, Assembly, and Manufacturing mission, or OSAM-1. The mission will robotically refuel a satellite in space, assemble a communications antenna, and manufacture a beam, developing groundbreaking technologies for use in future NASA missions. Parker specifically works on developing the technologies for the robotic arms and electronic components needed for the mission.
Parker has also worked on other NExIS missions. He created a lightbar for the Robotic Tool Stowage unit, or RiTS, which launched to the International Space Station on December 5, 2019. RiTS is an aluminum unit designed to provide thermal and physical protection for the storage of tools on the outside of Station. The lightbar is a critical part of RiTS, used to ensure it is operating correctly. It acts as a visual display that indicates that RiTS is receiving uninterrupted power from Station, thereby allowing RiTS to continue heating and thermally protecting the tools stored inside its aluminum housing.
"Our team remembered there are many cameras outside of the space station," Parker said. "So we thought, 'build a lighted display, visible day or night, by space station cameras to provide this information.'"
Throughout the RiTS development process, Parker had a NExIS proxy, Justin Cassidy Jr. act as his hands on the Goddard cleanroom to manage the flight hardware and carry out the necessary testing. Cassidy worked to physically execute Parker's vision at Goddard and other testing facilities, when Parker could not.
Onward and upward
Parker has worked within the National Aeronautics and Space Administration for 28 years, but his passion for flight has lasted his whole life. From the airplane knick-knacks scattered throughout his home to the airplanes he has piloted, Parker has always found happiness in flight.
In the first stages of his ALS, Hansen set up a day of flying a private plane for her husband, which left a lasting smile on his face. Parker is a self-proclaimed airplane nerd, who is content simply watching them land and take off from an airport. Even so, his love of aircraft is no match for the love he holds for electrical engineering and satellite servicing.
"I went from flying planes to flying rockets and satellites," Parker said. "And it was one of the best decisions of my life."
Written By: Rachel Reed
Editor: Katy Cawdrey